OCC Metallic Lip Tar
Color: ZHORA

Description: Pale Peach-Gold Metallic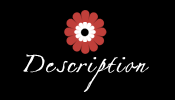 Infused with state of the art hi-resolution metallic pigments, the unparalleled opacity of Lip Tar has gone High-Voltage with an intense shimmer finish. This set contains a 0.33 oz Lip Tar #010S Short-Handled Precision Lip Brush, and vinyl pouch.
Contains Organic Hemp oil and Soy-Derived vitamin E, for a finish that feels as good as it looks! Paraben-free courtesy of refreshing peppermint oil.
100 Vegan and cruelty free.
DUSK TO DAWN BEAUTY IS PROUD TO BE AN AUTHORIZED & APPROVED DISTRIBUTOR OF OBSESSIVE COMPULSIVE COSMETICS PRODUCTS.