Medusa's Makeup
Color: BLACK SABBATH
Description: Eye Dust 1.5 g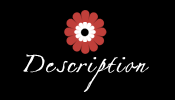 This is Medusa's Make-Up most inspiring product. This Eye Dust is truly amazing mineral Eye Shadow in the form of fine loose posder, think powdered sugar. This all natural mineral eye dust is by far the best in the industry. It glides on the skin like silk and wears well all day long. Each color carrries it's own characteristics, some shimmer, sparkle, some have iridescence and many are highly pigmented. Apply "Stick It" for dramatic effect. Can be applied to eyes, lips & face !
Cruelty, Free, Vegan & Made in the USA
Dusk to Dawn Beauty LLC is proud to be an approved distributor for Medusa's Makeup.